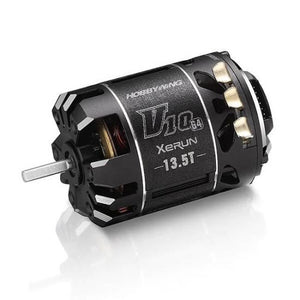 Hobbywing 13.5t motor
HOBBYWING XERUN V10 13.5T G4 BLACK MOTORFeatures
Excellent performance, specially designed for racing; Compared with the V10 G3R motor, the KV value of the G4 motor is increased by 9.8%, the maximum output power is increased by 5%, and the internal resistance is reduced by 4%.
The innovative outer diameter structure of the fully exposed stator core maximizes the heat dissipation area and increases the direct heat dissipation area by 25.6% compared with G3R. In addition, the rear end of the motor is a big opening structure to further improve the heat dissipation effect.
Dual sensor interface design to meet various wiring/layout requirements.
The special copper bar is customized and the spacing of the copper bar is widened, which greatly facilitates the operation of soldering wire.
The built-in high precision Hall sensor combined with the high precision and balanced rotor guarantee outstanding linearity of the motor.
The motor case is designed to be easy to dismantle for maintenance purposes and for the replacement of common wearing parts.
The use of a high-performance stator core, heat(200°C)-resistant wire, heat(180°C)-resistant rotor with strong structure, world-class high precision, and high strength bearings, and copper solder tabs with super-current
It's compliant with IFMAR, ROAR, EFRA, BRCA, JMRCA rules, and certificated by RoHS, CE, FCC and etc. 
Specifications
T: 13.5
KV: 3950
LiPo's: 2-3
(Ω): 0.021Ω
No-load Current (A): 4.5A
Max. Output Power (W): 322
Current @Max. Output Power (A): 70
Stock Rotor: Φ7-12.5*25.2-HUS
Weight (g): 149
Recommended Gear Ratio
Stock Class: 13.5T
TC (Small track): 4.7 : 1
TC (large Track): 4.0 : 1
TC 1/12th: 55mm
2WD Off-road: 7.6 : 1
4WD Off-road: 8.3 : 1
Cautions
To avoid short circuits, ensure that all wires and joints must be well insulated before connecting the motor to related devices.
Never allow this product or other electronic components to come in contact with water, oil, fuel or other electro-conductive liquids. If it happens, stop the use of the product immediately and let it dry carefully.
Read through the manuals of all power devices and chassis and ensure the power configuration is rational before using this unit.
Never apply full throttle if the pinion gear is not mounted on, because (under the no-load circumstances) high RPMs may get the motor damaged.
Connect all the devices carefully, you may not control the vehicle properly or encounter some unpredictable issues like damaged components if any poor connection exists.
---
We Also Recommend
---