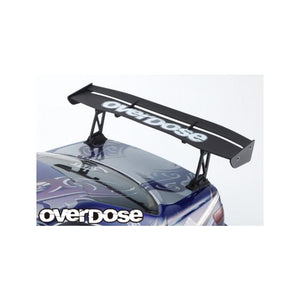 Overdose Voltex GT Type 5 Wing Set
VOLTEX releases high quality aero parts with aerodynamic characteristics
We, OVERDOSE, have obtained the official license of VOLTEX and will develop the VOLTEX series of aero parts for RC cars. As the first step, we released GT Wing Type-7, which was also installed in Weld FR-S and adopted the swan neck type as soon as possible! The second installment will be the GT Wing Type-5, which is also used in the Weld Hyakushiki Sanjo & Shiki. Not only are they both designed in pursuit of reality, but the angle adjustment function at the bracket part and the end plate are separate (two types are included), making it possible to arrange according to the body. With VOLTEX logo decal which is also a proof of authenticity. Type-5 comes with two types of wing stays, Hi and Low. In addition, the wing stay mounting position can be selected from two locations, narrow and wide. Together with the replaceable end plate, it can be used with various car models. In addition, a stealth type is used in which the stay mounting screws cannot be seen on the upper surface of the wing. It is a gem that is particular about styling and realism.
---
We Also Recommend
---