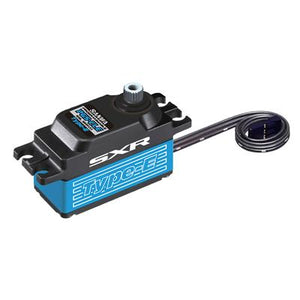 SANWA PGS-CLE SERVO
The PGS-CLE servo is developed for low power supply BEC from the ESC. Budget class ESC models BEC (Battery Eliminator Circuit) sometimes cannot supply enough power for the servo. PGS-CLE can work stably even if cannot supply enough power from ESC.
- SXR and SSL compatible
- Waterproof (Same as IPX4)
- AL Heat Sink
- Metal Gears
- Coreless Motor
- Compatible with Multi-Setting Gear
Voltage - 4.8 - 7.4v
Speed - 0.09 sec/60°(7.4V) 0.11sec/60°(6.0V)
Size - 40.5 x 20.5 x 26.5 mm
Weight - 50.4 g
*Recommend ESC BEC: Above 1.5A
3 different types preset can be set.
1.BASE (Standard mode)
2.QUICK (Aggressive mode)
3.DRIFT (Drift mode)
---
We Also Recommend
---