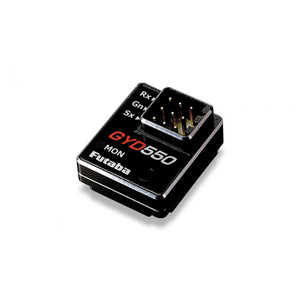 FUTABA GYD550 GYRO FOR DRIFT CAR (ALUMINIUM
The Futaba GYD550 Drift RC Car is a counter-steering gyro system for 1/10 RC drift vehicles.
GYD550 is an advanced gyro system designed to be used with 1/10th scale slick, carpet and all drift surfaces. Having features such as SR Mode for superior response and user-adjustable parameters accessible WIRELESSLY with the T7PX/R on version 7.0, the set-up and tuning abilities are limitless.
Take your drift to the next level with AVCS technology – Drifting has never been smoother, in control, and easy for beginners. You tell the car where to go, don't let it control you!
• For: 1/10 RC Drift
• Material: Metal
• Colour: Black / Silver
• Normal/AVCS mode
• High-speed response mode
• High gain mode
• Tail slide speed adjustment
• Gyro curve adjustment
• Left and right endpoint adjustment
• Damper adjustment
• Stick priority mode adjustment
• Wireless setting of S.BUS servo
• Supports SR mode
Specification
S-Bus: S.BUS & S.BUS2
Futaba SR Mode: Yes
Weight: 5.6g (body only
Dimensions: 22.6 x 19.6 x 11.0mm
Voltage Range: 3.5V to 8.4V
---
We Also Recommend
---