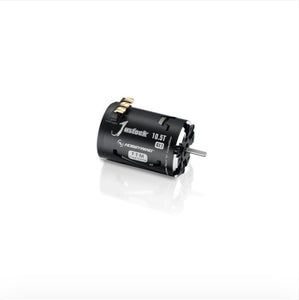 Hobbywing 10.5t
Hobbywing Justock G2.1 10.5T Sensored Motor (Fixed Timing) (SCH).
The main feature of these motors is the fixed timing and easy to use solder joints, making it an excellent motor for controlled classes.
– Available in winds 10.5T to 25.5T
– The use of a heat-resistant magnet attached aluminium case and double insulated windings, high precision bearings, and rotor with a strong structure guarantees outstanding performance and super durability.
– The built-in Hall sensor non-adjustable end bell combined with a high precision and balanced rotor guarantees the user a smooth and linear power on demand.
– The silicon O-ring seal fitted between the end bell and stator helps to conduct inner heat to the motor case and prevent dust from entering the HALL sensor.
– The detachable structure design for daily cleaning and maintenance can effectively prolong the service life of this Justock motor and improve its operating efficiency.
– This motor is perfectly matched with the XR10-Justock ESC for all zero timing spec racing and also compatible with other Hobbywing Electronic Speed Controllers including other brands.
– This Justock motor is applicable to various 1/10th, 1/12th on-road & off-road vehicles. It can be an ideal choice for Stock or Sport class races but can also be a nice choice for newbies for practice.
– The motor design is in compliance with IFMAR, and ROAR specifications.

All items shipped first class Royal mail
Please feel free to check out our other items Asbo rc
---
We Also Recommend
---