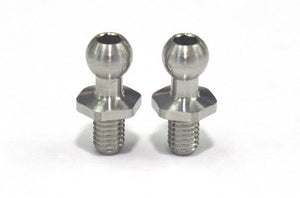 Reve d RT-006S Ball stud
Reve D rod end ball (Small) of the SPM (Super Precision Machine Cut) titanium series.
We have commercialized a rod end ball (Small size) with a Φ4.3mm specification used in the Yokomo YD-2 series etc. By using a lightweight / high rigidity titanium material and performing high-precision cutting.
The movement of the joint is smoothed by high-precision ball processing, and a significant increase in exercise performance can be expected due to its light weight.
The beautiful appearance is perfect for looking up the machine. Please try it!
* The dimensions are as shown in the above image. Please check the dimensions of each part before purchasing.
---
We Also Recommend
---